After the ascent to Ballstadheia I already weighed myself on the climax of my Lofoten trip, the panoramic view over the fjord landscape around Leknes was so unique that I almost ran out of letters. But today's 120 kilometres from Svolvær to Reine should eclipse everything that has existed so far. I was served a picture-book summer's day, which occasionally raises the thermometer to a record-breaking 19 degrees. I'm even about to apply sunscreen and for the first time I'm really happy to have chosen the low season from May to mid-June as travel time, because there's not much going on on the streets, in the few cafés and restaurants and in the accommodations. In midsummer you will certainly need elbows and lots of luck and patience due to the limited availability.
I start my tour today with the famous surfers from Unstad Arctic Surf, who, in view of the temperatures and mild breeze, prefer to chill in their converted VW buses. Not much of a thrill on the water to feel, but even more so in the single-lane, curvy and completely unlit tunnel. Who would like to manoeuvre in reverse? The only thing that helps is to close your eyes and hope for the much-cited luck of the low season.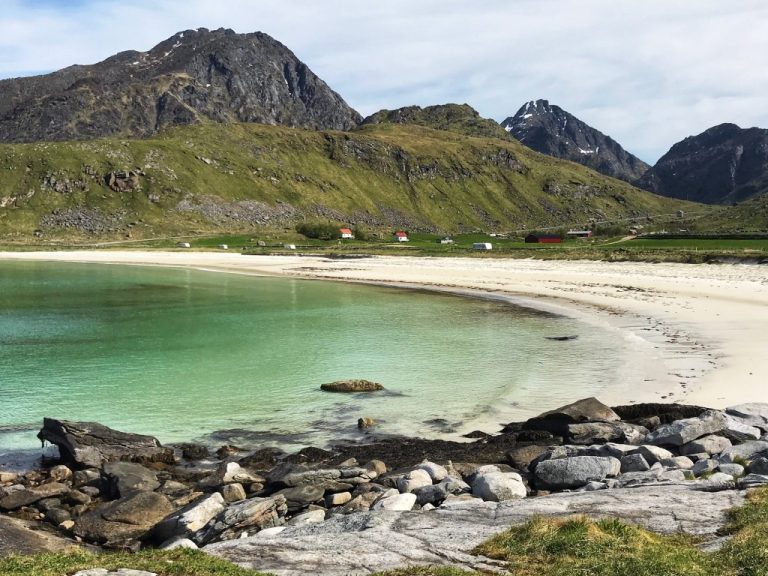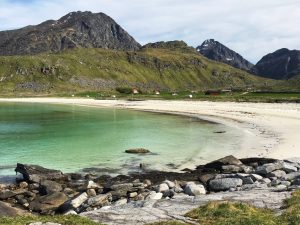 It then becomes much more romantic on the South Sea beach of Haukland 20 kilometres to the south, where the shimmering green water meets blossom-white sand and creates snap breathing, which does not stop even when carefully gliding in with the toes. Reminds me strongly of the dream beaches of Cape Town, because also here applies: Just look, do not touch and certainly do not dive. The big dating show of "mountain meets beach" reaches its temporary climax near Vareid and winds its way to Flakstad.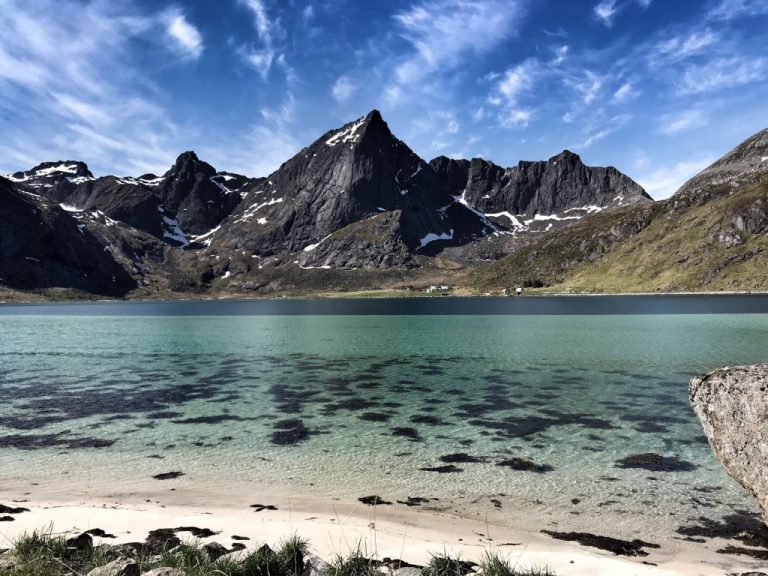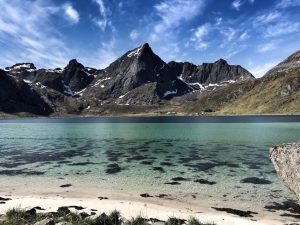 Get out, take pictures, get in and so on, until each beach section is recorded on the memory card. One is really glad that the speed limit is 80 km/h max, because one does not want to be faster on this dream road of the fjords and mountains. In addition, there are always single-lane sections, which, however, can be easily organised with alternative bays. One last tunnel and my Instagram Stream comes to life and turns into the famous harbour scenery of Hamnøy.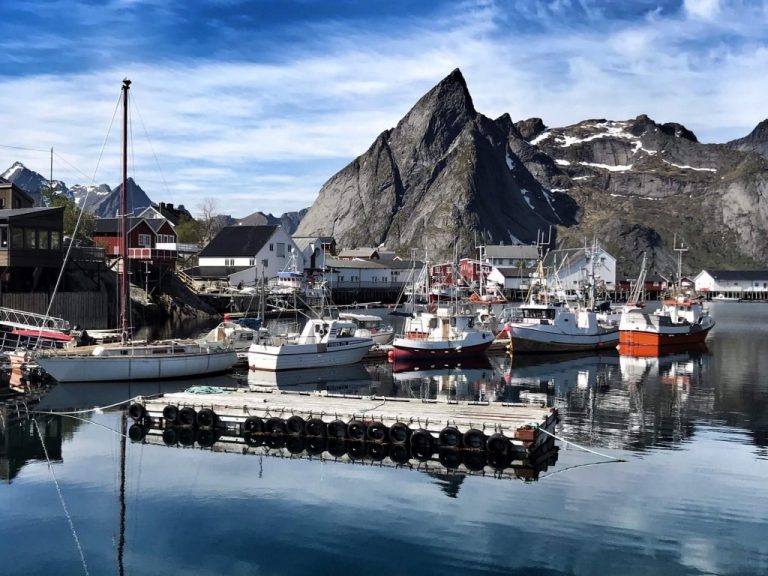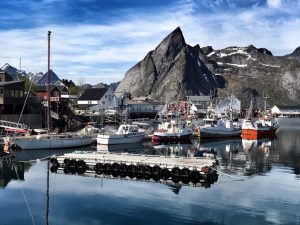 A couple of fishing boats swing in front of the mighty shark's teeth of Mount Olstinden, in addition the obligatory huts and a culinary institution, which must not be missing on any Lofoten trip: Anitas Sjømat, where there are the best fish burgers on the islands. I can recommend the "Winnie the Pooh" with smoked salmon and shrimps.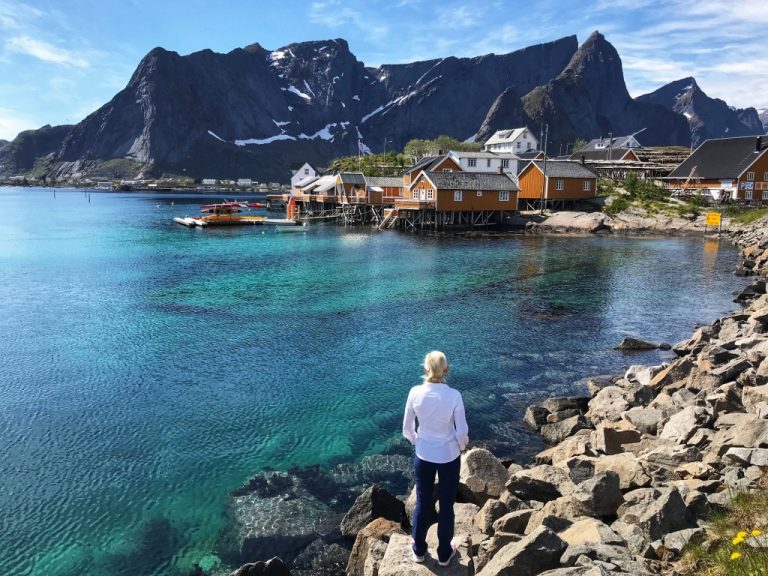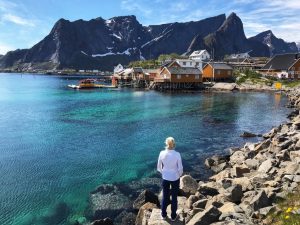 Just like the fishing village Reine Rorbuer, perhaps the most beautifully situated accommodation of Reine, which has been converted into a hotel. For the next 2 days I move into cabin number 14, sit on my comfortable sofa and look directly at the harbour bay of Reine. The converted original fishing cabins offer all the comfort you need up here. Altogether there are 2 bedrooms for 4 persons, a large living and dining area with a fully equipped kitchen and a hot shower for tidy dirty days.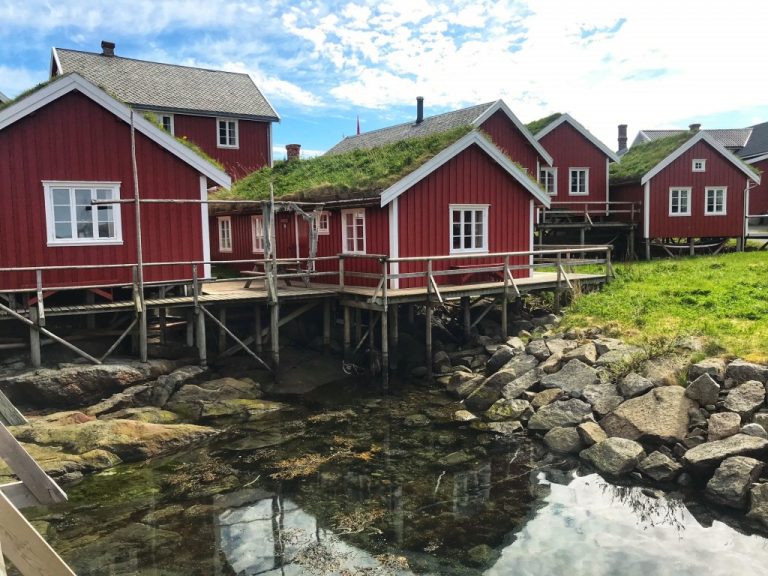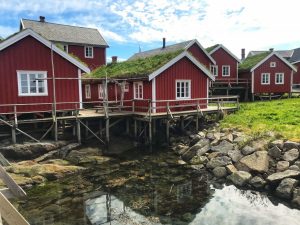 I leave the kitchen to the next tenant, as the hotel's own restaurant Gammelbua serves excellent fish and tasty steaks. A gas station, a small shop, a café and a lot of unbuttoned cod give the Reine Rorbuer a certain independence from all weather conditions.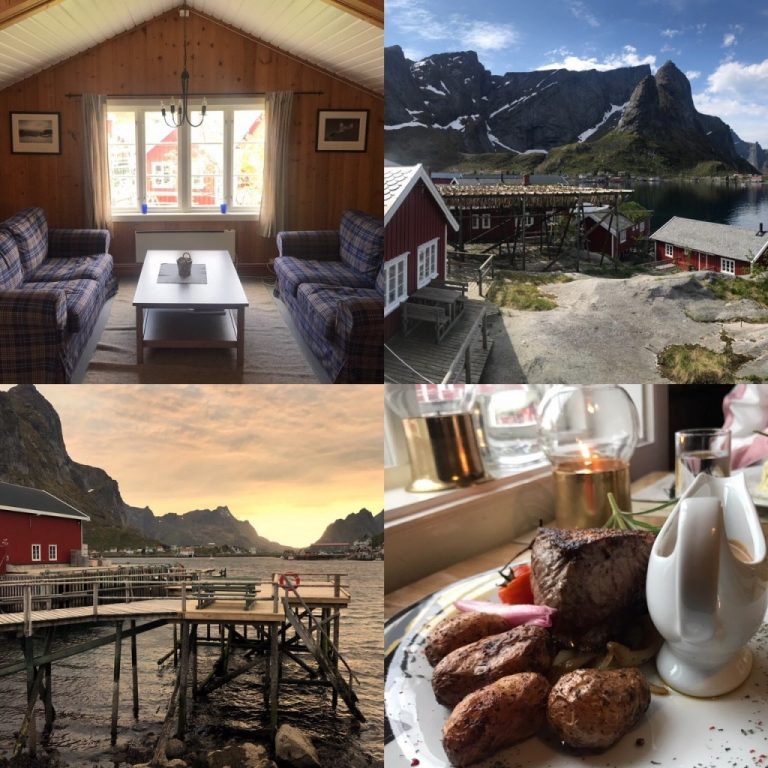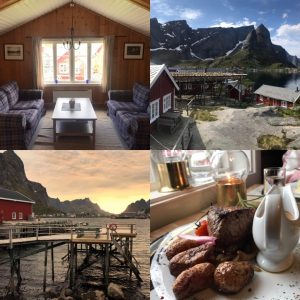 It´s about time for two hiking tours in the surrounding area, which means that we have to return to Fredvang to start the hike to Kvalvika Beach. At first I am deeply shocked by such a rush on the hiking car park, which is already bursting out of all joints with 5 cars. And as if this wasn't already a knockout with the tourism club, there is even a sign at the start of the trail, then a path and something like wooden beams that have always been laid over the moist moss. Is this still Norway or does the route already belong to the territory of the German Alpine Club? Nevertheless, I am naturally happy about the markings along the way and reach the ridge after only 30 minutes, which offers the first view of the turquoise-shimmering sea at (almost) lonely Kvalvika Beach.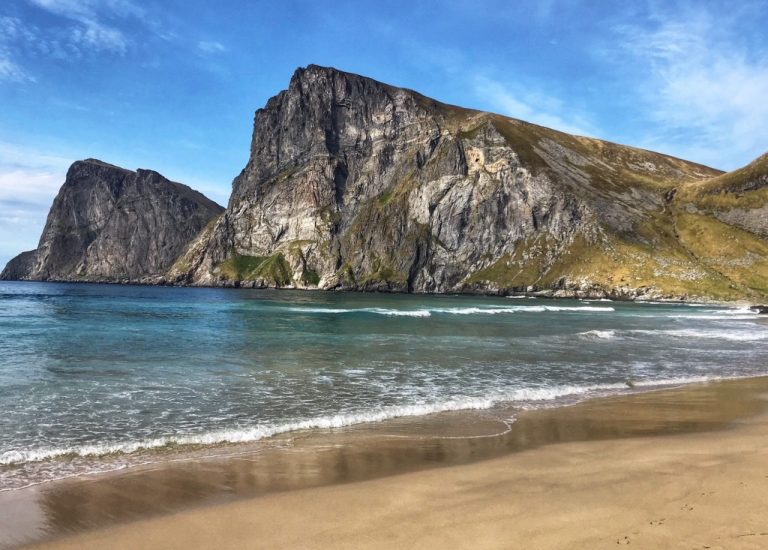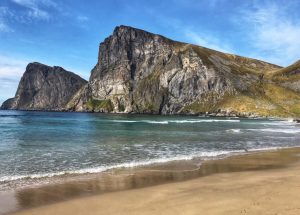 Then you walk down a scree field for another 30 minutes before strolling barefoot on the beach. If you really want to be lonely, you can still walk along the rocks on wire ropes to a second hidden bay. Rating: Slippery but feasible.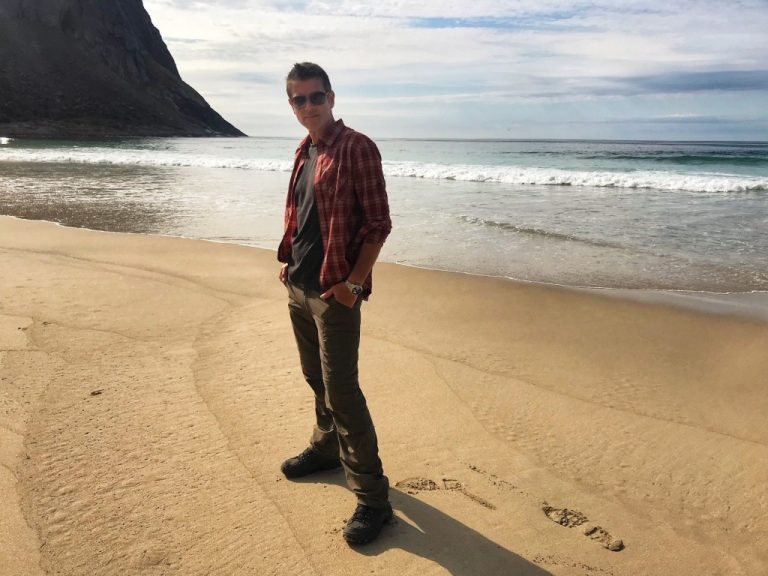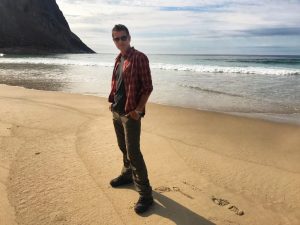 Unfortunately I postponed my second tour up to Ryten until the following day which was a mistake in view of the average sun-cloud-mix-weather in retrospect. While the coast was spoiled with sunshine, the mountains disappeared in big grey clouds. From halfway through the tour I didn't see anything anymore and 20 minutes before the summit experience I broke off without result. If you've ever been up there, just show me some pictures. Time to turn the broken off morning into gold and after a visit to the fishing village museum of Nussfjord, dinner at the Maren Anna Restaurant in Sørvågen is still on my agenda.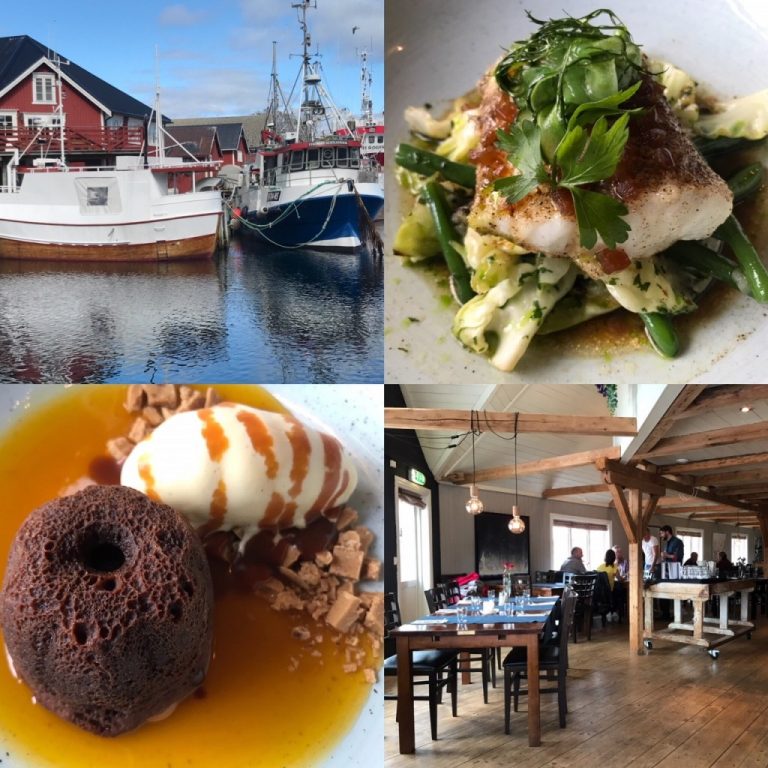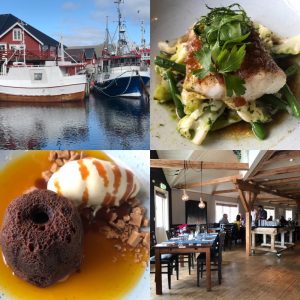 This converted boathouse is located directly at a small harbour and not only looks stylish and rustic (yes, that is possible) but also offers a first-class kitchen. Best fish, best brownie, best evening. Imitate! Still missing the cherry on the cake? Okay, then just sit in front of your fishing hut in Reine Rorbuer and enjoy the sunset, which will be no one, but still looks insanely good. Pleasant daydreams.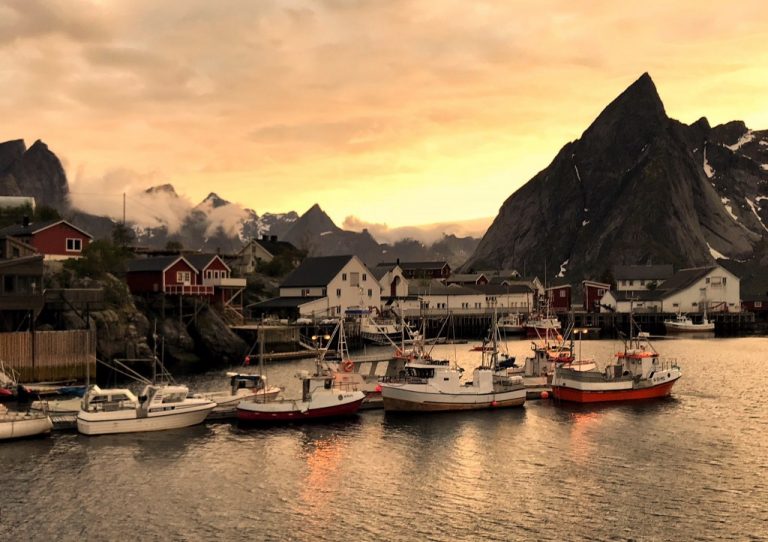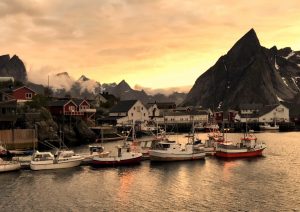 The Lofoten Islands really do not leave anyone cold, but offer an atmosphere of closeness to nature, solitude and the spirit of discovery that is rarely found on earth.
But of course you need weather luck, because only in sunshine all facets of this mountain and fjord landscape can be enjoyed in full splendour. So my recommendation: If you catch an epic day, use every goddamn hour of it, because you can still sleep tomorrow, when it may rain again.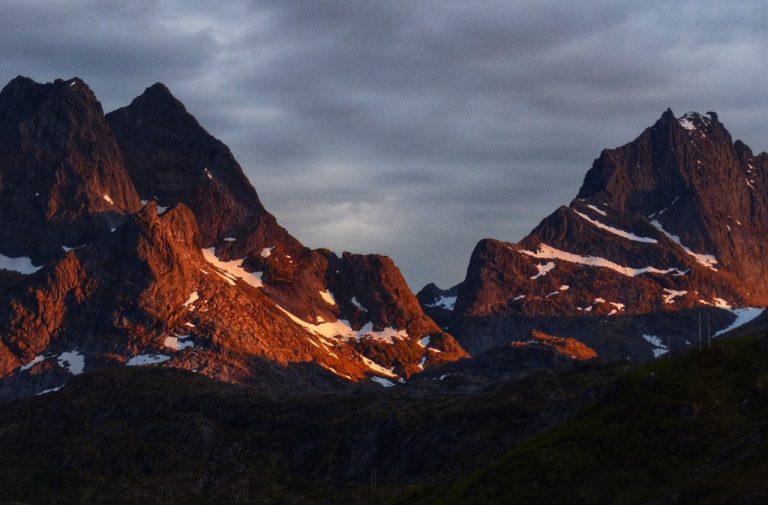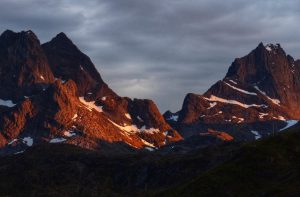 Here is the first part of my report on Lofoten Islands, which describes the area around Svolvær.
This article was written with the kind support of Reine Rorbuer and the wonderful organization of Alicja Kass.