In retrospect, the third day was the most critical of the Kilimanjaro hike. First indications of altitude sickness, which can be noticed by piercing headaches, the eternal search for clothes and equipment in the tent, the lack of hygiene and the fine lava dust, which is like a layer over everything, makes me doubt the project. My face feels as if Apollo Creed had beaten it a whole night so it was hard for me to insert my contact lenses.
In addition, the hardest two days are still ahead of me. There is no help whining, because it goes up again, partly on all fours, over the steep Barranco Wall, whose climbing parties are however quite good to master, if one knows where the handles conceal. Worse is almost the permanent traffic jam, caused by the poor porters, who must transport all equipment over the steep passages.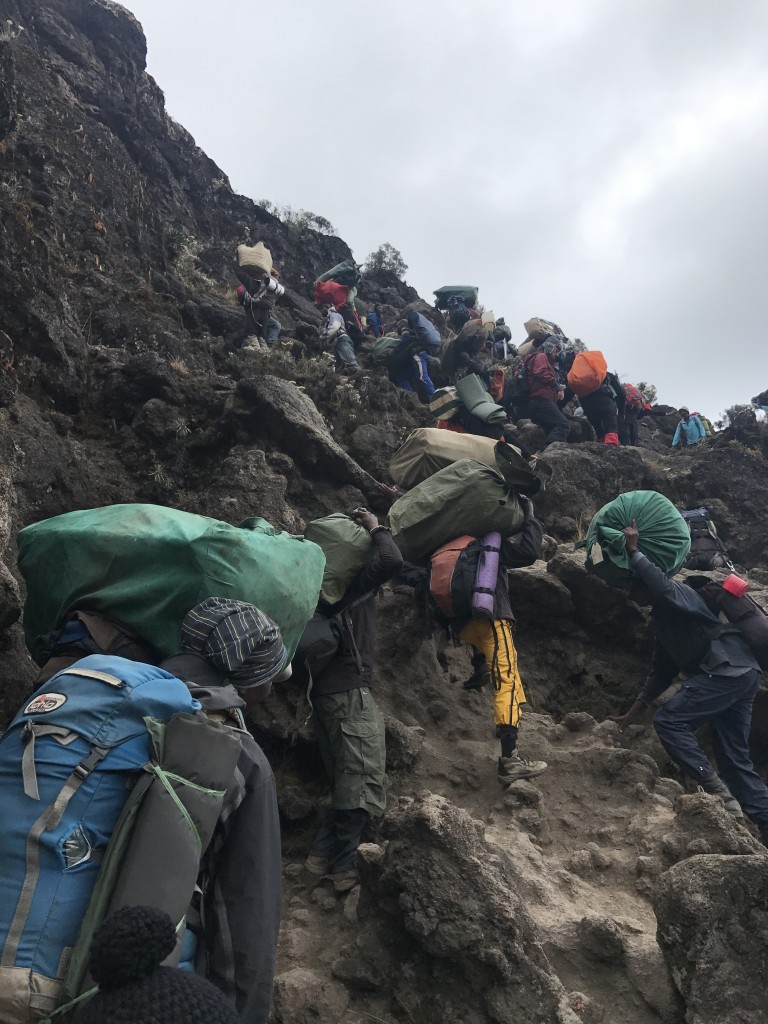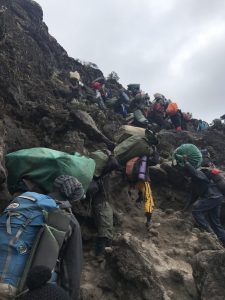 After an hour or so, I stand on the plateau of the wall and look at the Karanga Valley, which is now obscured by deep clouds. The headaches have settled thanks to some pills and unfortunately it goes already down again, because altitude meters are only made in the afternoon.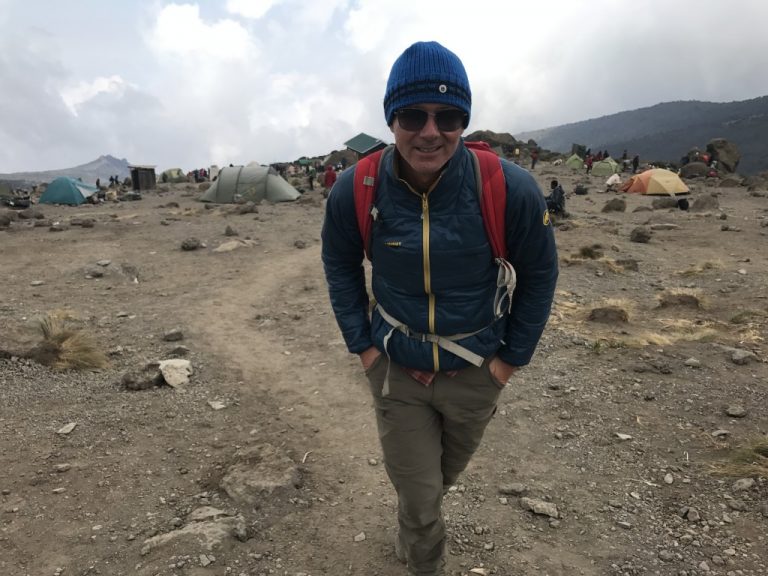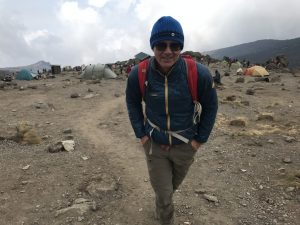 Before that, there is still a lunch stop, consisting of hot soup and sandwiches, from our chef Elyawon. Only now I notice how fit our Porters really are. Started together this morning, they have finished the setup of the lunch camp before we arrived. Actually, I would prefer to take a nap now, but there are still another 3 hours of climb to the Barafu camp on our schedule.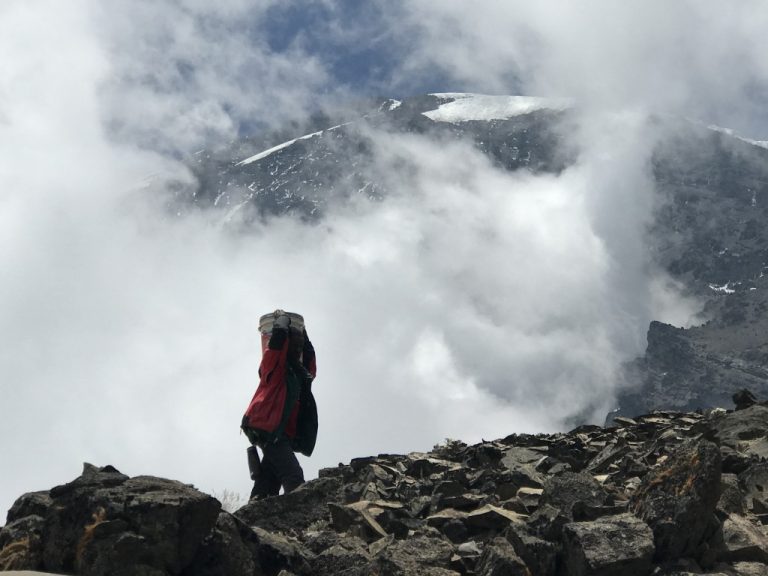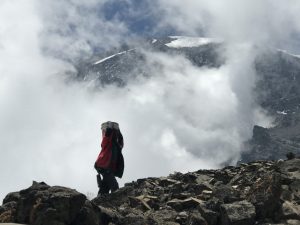 As a small motivator, the sun flashes through the fog banks and shows the white summit of Mount Kilimanjaro from its most beautiful side. "You son of a bitch" I shouted "we see us tomorrow morning". As a punishment, the mountain sends me a last ascent hill, before I fall exhausted into a restless sleep in the 4,670-meter-high Barafu Camp, which is also called Basecamp. I do not even want to wash my face, change my clothes, unpack my backpack. Internet? Who cares.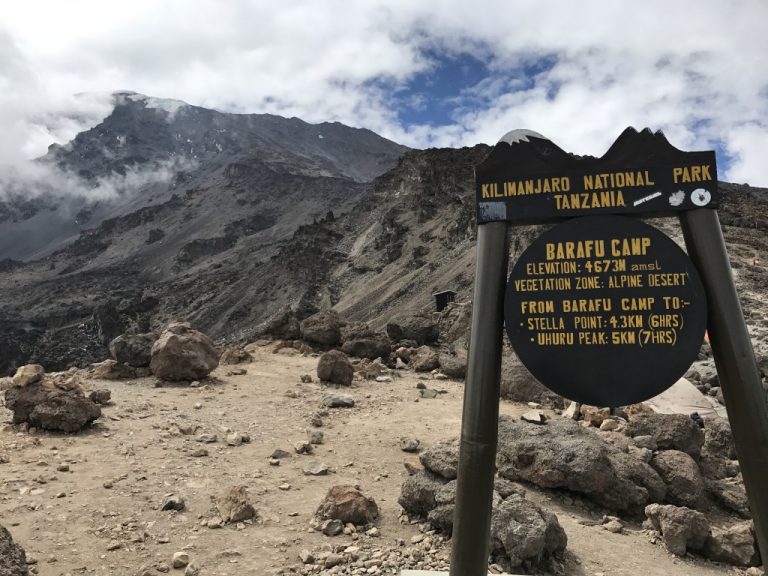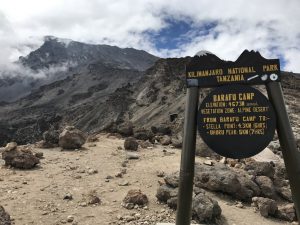 Day 5 and thus D-Day. It finally goes to the summit and the night, which was none, is declared over at 12.30 am. Now it's time to wear everything that was hidden in the backpack, because Guide Paul warned us of extreme cold. My "Dress of the Day" consists of 2 long underpants, plus 2 wind breaker, 1 thermo shirt, 1 T-shirt, 2 shirts, 1 fleece, 1 Mammut Light Bold jacket, all wrapped in a raincoat, because strong winds and drizzle beats against our tent. It is deep black night, but from afar you can already see the lights of the first climbers. Let´s follow them, because wind and rain have settled, which reminds me of Krakauers famous Everest ascent. Despite darkness it feels astonishingly good with the artificial light and so we walk in a zombie shuffle mode to the summit. Just don´t look up, because the light strings give you a sense of the endlessness of this mission. At the beginning, I think I'm okay, but the steady ascent in a 45-degree angle leaves it´s traces and costs important energy. I feel dizzy, and I stagger more than I move my feet forward. Not even half of the 1,200 today's heights are made, and at the sight of the first reverser, who look very exhausted, I produce sweet thoughts of termination in my head. But Paul and our second guide Amos remain hard and suggest me with an "almost there" that it is not far to the summit. What is a fallacy, of course, since we have not even reached the 5,000 meter mark. But it motivates me to keep fighting round by round, even if my course is getting more and more uncertain and I suddenly land on all fours. Amos helps me with the backpack and gives me more of the extremely thin air that is responsible for dizziness and nausea. Again and again I fall asleep for seconds and feel the icy cold even more.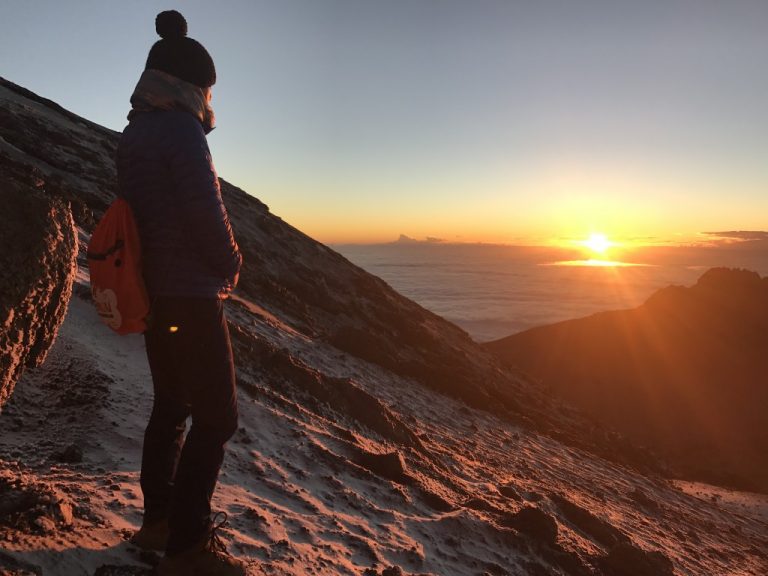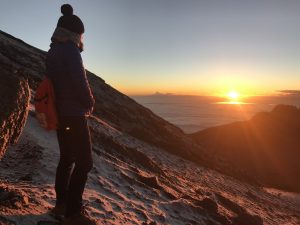 In the end, it is the energizing sunrise and the first view of the huge glacier of the Kilimanjaro, which pushes me up to Stella Point at 5.756 meters. With tears in my eyes I embrace my two guides and thank them for their tenacity. I actually did it and the sight of the snow filled crater inspires me totally.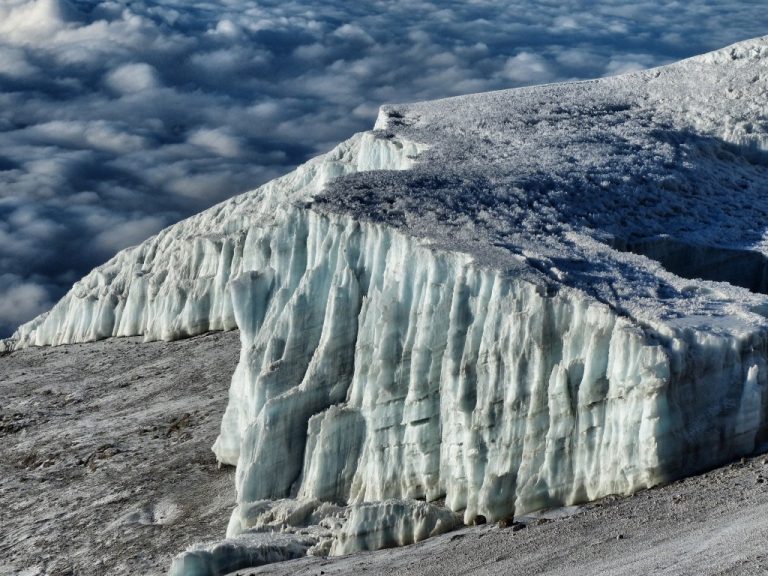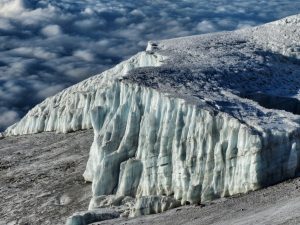 In addition, the glacier walls, which rise directly from the volcanic soil, are so special that Paul's statement: "The real peak is the Uhuru Peak and you have to circle around half of the crater to get there" does not bother me at all. 10 minutes ago, I was dead, now I´m already on my way to the highest point of Africa. Not that one of you can say, you were not at the real peak.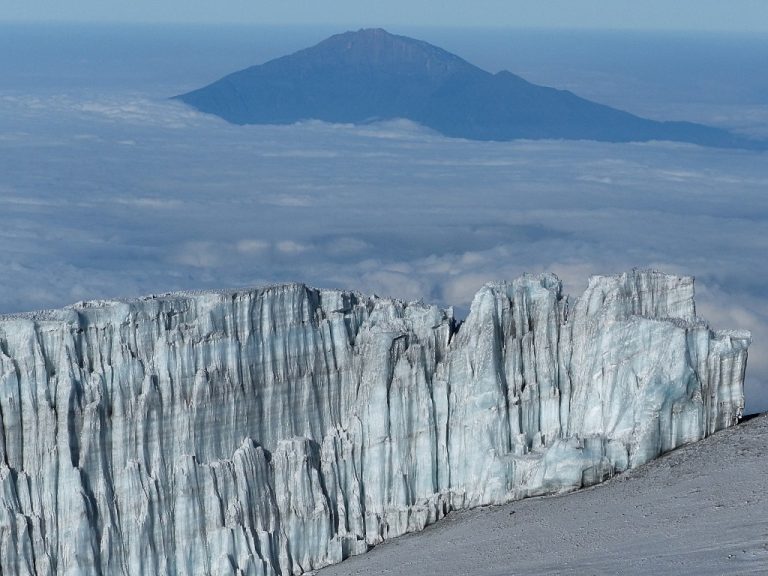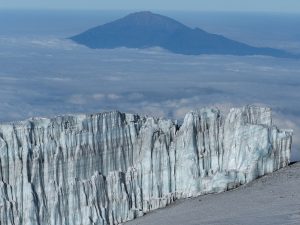 After that, however, it goes back to basecamp and 8,5 hours later, I run into the camp like Alexander the Great and cannot save myself from the congratulations of my team. Drinks are served and Paul gives me an extra hour of sleep before we leave the Basecamp to dismantle 1,500 more heights on the same afternoon.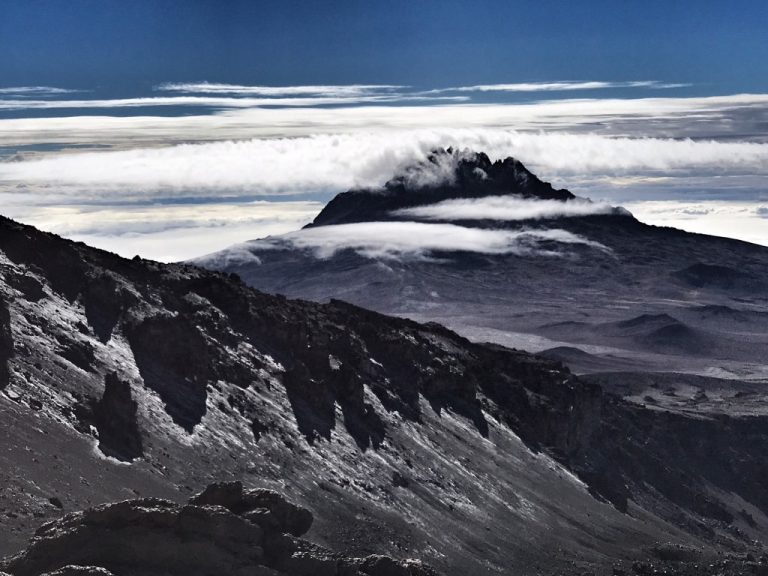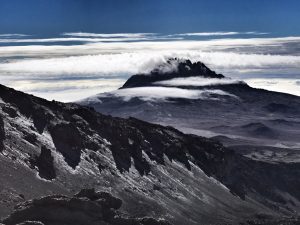 I'm now running like a robot, but it does not help, because tomorrow our 6-day summit tour ends and a shower, a hamburger and an ice-cold Serengeti Lager are waiting for me.
Thanks to my wonderful guides Paul and Amos and of course to Novi Travel for giving me such a brilliant crew.
If you need further information or assistance with african agencies & hotels just write me a direct message: info(at)turnagain.de
Here is Part 1 of the Kilimanjaro hike.